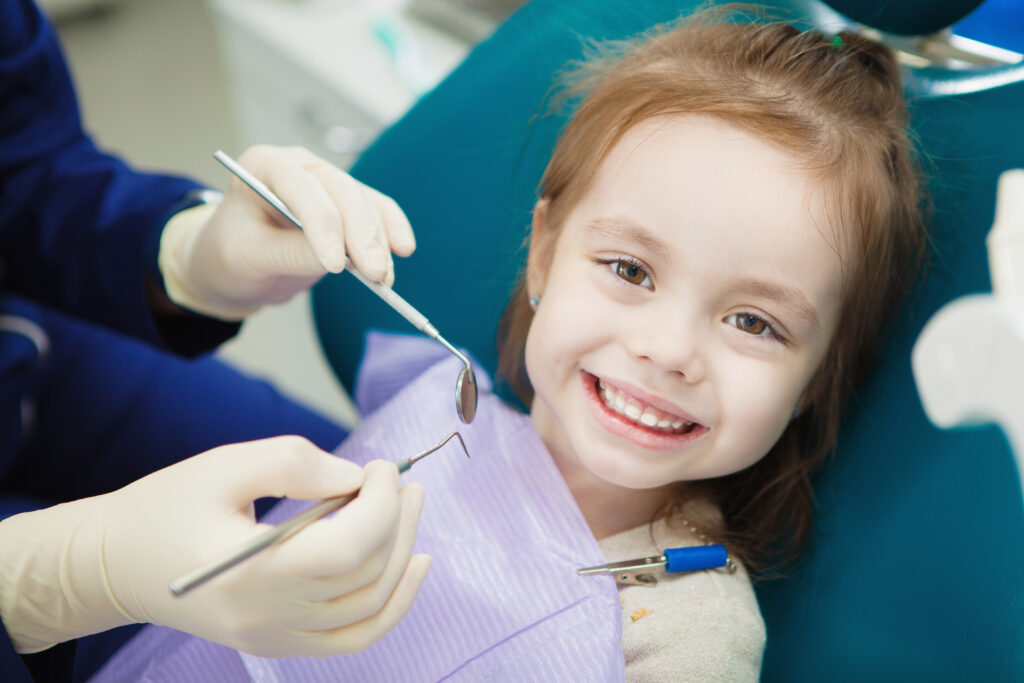 Dental care can help children avoid issues like cavities, and ensure a better understanding of their own oral health. Which is why we're so proud to offer children's dentistry for kids in our community of all ages. In today's blog, your Lake Orion, MI, dentist talks about our approach to children's dental care.
The First Visit
When should your child see the dentist for the first time? We suggest one once the initial baby tooth erupts, around age one. The visit only consists of a gentle knee-to-knee lap exam. We make sure teeth are erupting properly, and help your little one become accustomed to the dentist. A major part of children's dentistry is helping kids learn not to fear the dentist, and to understand the importance of routine care both at home and in the office. This way, we can help them enjoy a lifetime of healthy smiles!
Routine Checkups and Cleanings
A routine checkup and cleaning is a major component of children's dentistry, and begins at around age two. The checkup means we can watch the smile as your child grows, so we can identify any areas of concern in the earliest stages, before your little one experiences discomfort. For example, we can use digital x-rays and intraoral cameras to diagnose concerns like tooth decay and gingivitis, and to make sure permanent teeth erupt and fall out on schedule, and that permanent teeth have a clear path to eruption, so little ones avoid misalignment. In the same visit, our team can clean the teeth too. A child's dental cleaning consists of removing all plaque and tartar with an ultrasonic scaling device and a manual pick, so the risk of bad breath, stained teeth, and tooth decay is lowered significantly.  
Dental Sealants
Children's dentistry also includes treatments to help lower the risk of tooth decay. For example, the rear teeth are often hard for kids to reach when they brush and floss, so particles of sugar and starch can remain trapped there. This leaves the molars more susceptible to tooth decay. But with dental sealants, we apply a special plastic coating to these teeth that prevents food and drink particles from clinging to them or becoming stuck between them. The risk of cavities falls significantly, and these layers can remain in place for up to ten years in some cases. Even as they wear away, they cling the longest to the more vulnerable portions of the smile.
Fluoride Treatments
Our approach to children's dentistry also includes regular applications of a topical fluoride gel. Fluoride is a naturally occurring mineral, one that has been shown to strengthen tooth enamel and shore up weakened portions of outer structure, so people are less likely to have cavities. That's why many communities have added fluoride to the tap water, lowering the risk of cavities in all ages. With the topical gel, we apply fluoride directly to the teeth during each checkup visit. The process takes seconds, and kids just need to avoid food and drink for about 30 minutes afterward. Kids also safeguard their smiles by using a fluoride toothpaste when they brush. Kids three and younger need a rice sized amount, and everyone over the age of three needs a pea sized blot.
Dental Fillings
What if we find tooth decay when we examine your child's smile? Then we need to administer treatment. Even in baby teeth, treating tooth decay is important. Waiting for the tooth to fall out naturally means months or even years could elapse between the formation of decay and the loss of the tooth, which could lead to your child suffering major discomfort or premature tooth loss, which in turn increases the risk of dental misalignment. But with a filling, our team can remove decay and apply a safe and lifelike material known as composite resin. We then shape the tooth and polish it for a bright and natural appearance. In only one visit, our team can treat tooth decay and lower the risk of infection and premature tooth loss.
If you have any questions about how we approach children's dentistry, or about scheduling a visit for your child, then contact our team today to learn more. We want to help children of all ages maintain optimal oral health for years to come, and to prevent the onset of dental anxiety. Good care now means healthy smiles for years to come!
Do You Have Questions About Children's Dentistry?
Contact Lake Orion Family Dentistry in Lake Orion, MI by calling 248-693-6213 to schedule your next appointment with our team and protect the health of your child's smile.