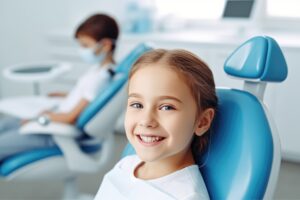 We want to help your entire family enjoy good oral health, which is why we recommend regular visits for kids. With routine care, children can better understand their smiles and avoid issues like tooth decay or infection. In today's blog, your Lake Orion, MI, dentist takes a close look at our approach to children's dentistry.
Checkups for Kids
Kids need dental exams too, just like adults! We recommend six-month visits starting at around age two. During these visits, we will carefully examine your child's smile with digital x-rays and intraoral camera technology, so we can comfortably make a diagnosis with precision and accuracy. We will take time to talk with your child and help and help them feel comfortable, so they don't dread their next visit. If we discover issues that end treatment, like a cavity, we can create a treatment plan to address the concern and protect their oral health. These visits also help kids gain a better understanding of their smile, and of the importance of good oral hygiene.
Cleaning Your Child's Smile
Our team will also clean the teeth in the same sitting. A dental cleaning removes all plaque and tartar buildup using an ultrasonic scaling device and a manual tool. The procedure only takes a few minutes, but is crucial for fighting issues like tooth decay and gingivitis, while also offering kids fresher breath and brighter smiles. When kids attend visits like these, they may be more likely to avoid developing dental anxiety, and could be more likely to continue seeing the dentist as adults.
Fluoride Treatments
Our team could also provide a treatment designed to help lower the risk of tooth decay in little smiles. Fluoride is a naturally-occurring mineral that has been shown to strengthen outer enamel, especially the weakened portions soon to develop tooth decay. Our team will apply fluoride to the teeth in seconds in a varnish form. Children then need to avoid food and drink for about 30 minutes as it cures., The fluoride can lower the risk of tooth decay. Which is why kids should also brush with a fluoride toothpaste, with children ages three and younger using a rice sized amount, and everyone else using a pea sized blot. Drinking water is important because it not only hydrates and cleanses the smile, but your community tap water likely contains fluoride, further strengthening your child's smile.
Dental Sealants
We could also help fight tooth decay by applying dental sealants. Children often have a hard time reaching the molars when they brush and floss, so food and drink particles could remain lodged between these rear teeth. This results in a higher risk of tooth decay. But with sealants, we coat these teeth in an acrylic coating, which keeps food and drink particles from becoming stuck on or between them. Applying the sealants only takes a few seconds, and kids just need to avoid food and drinks for about 30 minutes, just as they do following a fluoride application. The sealants then stay in place for up to ten years, and wear off gradually, sticking the longest to the more vulnerable portions of your child's smile.
Preventive Actions at Home
We also want to make sure your children are following good oral hygiene habits at home, which limits plaque and tartar buildup in between office visits, and helps keep their teeth and gums healthy. Children need to brush for two minutes in the morning and again at night, each and every day. They should also floss before they brush for the second time each day. Try to help them eat healthy snacks, cutting back on options high in sugar and starch. Children also benefit from drinking water instead of sodas or energy drinks. With the right actions, you can help your kids enjoy optimal oral health and beautiful smiles, with results that can last for years to come.
If you have any questions about our approach to children's dentistry, or if you would like to schedule a visit for a checkup and cleaning, then please reach out to our team today to learn more. We want to help little ones of all ages, from babies and toddlers to teens, maintain their best possible smiles.
Schedule a Visit for Children's Dentistry
We would like to help children of all ages maintain good oral health and avoid issues like tooth decay. Contact Lake Orion Family Dentistry in Lake Orion, MI by calling 248-693-6213 to learn more and to schedule a visit for their next checkup and cleaning. Your little ones need to see the dentist for routine care, and we're ready to see your little one!