You've probably heard of 3D printing, but did you know that it has a place in dentistry? In recent years, it has made a big impact on different industries by offering a cheaper and quicker way to make things without compromising quality. At your Lake Orion, MI dental practice, we stay up-to-date on the latest tech in order to provide optimal patient care. Find out how our patients are benefitting from custom night guards and other oral appliances made on a 3D printer.
Is 3D technology More Accurate?
Traditional ways of making night guards and oral appliances often result in mistakes and inconsistencies due to human error. However, with in-office 3D printing, dental professionals can create custom oral guards with great accuracy. Computer software helps design models that can be turned into actual models we can physically have right away. This means that the products made using 3D printers fit perfectly, making them more comfortable and effective for patients.
Saving You Money and Time
The usual process of making a custom appliance involves several steps, like taking impressions, sending them to labs, and waiting for the finished product to arrive. This can sometimes take weeks! However, 3D printing allows dental offices to speed up the process. Having the ability to print on-site saves time and eliminates the need to send work to other places. This not only reduces waiting times for patients but also saves money for both dentists and patients.
A Better Experience for You
In the past, oral devices could be uncomfortable, ill-fitting, and bulky. But with 3D printing, dentists can create a custom product that fit perfectly in a patient's mouth. This technology eliminates the need for messy and uncomfortable impression-taking, thanks to digital technology. The result is a comfortable and secure fit, making the devices more enjoyable for patients to use.
Custom Made and Durable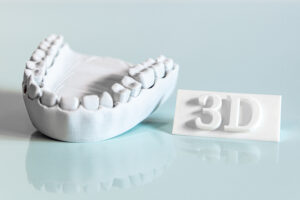 With this technology we can create different types of appliances, like night guards, retainers, and mouthguards. Whether you are a teeth grinder, or your teeth are crooked, your dentist will adapt and recommend the appropriate piece for you. The materials used are tough, resistant to wear, and can endure the daily stresses of the mouth. They can even customize the appearance, using different colors and textures. This flexibility allows for personalized care and increases the chances that you'll enjoy your device for years to come.
Improve Your Oral Health with Us
3D printing has revolutionized the way night guards and other oral appliances are made in dental offices. With this technology, we are proud to provide 5-star care that meets your unique needs and improves your oral health. Please contact Lake Orion Family Dentistry in Lake Orion, MI by calling 248-693-6213 for your custom mouthpiece today.