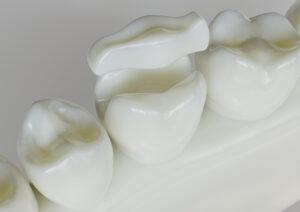 When you need to have a cavity treated, or a tooth repaired or a missing one replaced, you need a restoration or prosthetic. To offer these options with a holistic approach, and to ensure they're safe for all ages, we provide metal-free dental work. In today's blog, your Lake Orion, MI, dentist talks about metal-free dental restorations.
Why We're Metal-Free
While metal restorations are effective, they often contain trace amounts of mercury. They could also be problematic for young children, the elderly, or pregnant women, plus those with metal allergies! In fact, most people may not be aware they even have metal allergies. Plus, these metal options change shape with time and temperature, which could increase the risk of decay or infection down the road. With these options, we offer repair that is safe for your smile and biocompatible, bonding with the teeth. They're safe for everyone, and plus, we can shade them to blend with your smile and offer a lifelike appearance.
Composite Resin Fillings
If you have a cavity, then we can use composite resin to treat the tooth. These fillings bond with your tooth and stay in place for years to come, preventing infection or worsening discomfort. Placement only takes one visit too. The same material can be used to mask cosmetic imperfections, such as teeth stains or minor damage, in dental bonding procedures.
CEREC Crowns
If you need a more substantial restoration, then we could place a crown. A dental crown fits over the tooth and addresses multiple cosmetic concerns at once. These can repair cracked or chipped teeth, lengthen worn down ones, and reshape malformed teeth. We can treat advanced decay or infection, and can even aid in tooth replacement. Using the CEREC system, we will create and place your crown in only one visit! Being made from ceramic means the restoration can handle daily bite forces with ease and is also color matched to blend with your smile. You enjoy long-lasting and lifelike repair in only one appointment.
Porcelain Dental Prosthetics
If you have missing teeth, we have metal-free solutions too! With the CERC system, our team can create a bridge to address between one and three missing teeth in a row. The prosthetic contains new teeth with crowns attached to each end, which we place onto the abutment teeth to secure your new implants firmly in place. If you're receiving dental implants, we can create natural looking dental restorations with our CEREC crown. Our team is ready to help you smile with confidence!
Schedule a Visit for Metal-Free Dental Work
We can repair and restore your smile with holistic and lifelike dental repair and prosthetics. Contact Lake Orion Family Dentistry in Lake Orion, MI by calling 248-693-6213 to learn more about metal-free dentistry.