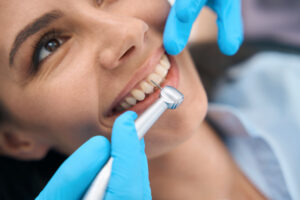 When you have gum disease, you need treatment to manage the disease and prevent major complications, which range from discomfort to tooth loss! Our team understands how to diagnose and care for your smile, helping you avoid tooth loss and uncomfortable symptoms. In today's blog, your Lake Orion, MI, dentist talks about treating your periodontal disease!
The Causes of Periodontal Disease
How do we develop an issue like gum disease? According to studies from the Centers for Disease Control, half of adults 30 and older suffer from some stage of the disease. This could be brought on by inflammation that remains untreated, usually the result of a diet high in sugar and starch combined with poor brushing and flossing habits. These factors lead to plaque buildup, which irritates and inflames the gums. Tobacco use, a family history of the disease, inflammatory illnesses, and even the use of certain medications could be factors too. As part of your treatment, we will need to carefully examine your smile to understand the factors behind your periodontal disease.
The Common Warning Signs
If you attend checkup and cleaning visits every six months, then we can identify concerns in the earliest stages of inflammation, often reversing them with a deep cleaning. But otherwise, you may not know you need treatment until you notice your gums appear redder than usual, feel sore, bleed easily, or begin to recede, making teeth appear longer. When you experience one or more of these potential symptoms, please let us know right away so we can conduct a diagnosis and find out if you need treatment. Otherwise, the disease will grow in severity until you develop tooth loss! If the disease remains untreated, then you could also have harmful bacteria enter your bloodstream, which increases the risk of inflammatory illnesses and complications for your cardiovascular system.
Working with Our Periodontist
We have an on-staff periodontist who can see you and offer treatment. Dr. Mark Isler has helped so many of our patients with gingivitis and gum disease find relief, and preserve the stability of their smiles too. Dr. Isler is skilled and experienced in the care of periodontal issues, and can help you and your family too! He will talk to you about your oral health history, and also assess the state of your periodontal health. He will then create a treatment plan to manage the issue and preserve your smile, which could include nonsurgical and surgical solutions, such as a deep cleaning, gum graft, or even implant dentistry to address teeth lost by periodontitis.
Deep Cleanings
Our team can provide treatment in our office, no need for you to be referred elsewhere to see a specialist. Our onsite periodontist can begin treatment right away, without delay in service! For gingivitis and the early stages of gum disease, we may recommend a deep cleaning. Also known as a scaling and root planing, this involves removing buildup from the teeth and smoothing it away from the roots with an ultrasonic scaling device and a manual tool. We also remove bacterial deposits from beneath the gums. This could take one visit or up to four, depending on how severe your buildup actually is. We then polish the teeth to make it more difficult for plaque and tartar to form on the teeth in between your cleaning visits. You could then have it managed properly with traditional cleanings every three to four months. If you have severe gum recession due to the disease, we could use grafting to cover the exposed portions of the teeth, preserving the health and beauty of your smile. If you have suffered from tooth loss, we could discuss implant dentistry to replace what has been lost, with lifelike and durable implants that act as new teeth.
Better Home Habits
At home you can help better manage the issue too. You should brush and floss daily to remove food and drink particles and limit the severity of plaque and tartar buildup. Try to cut back on sugary and starchy items that feed harmful bacteria, and avoid tobacco use too. Be sure you're seeing us regularly for cleanings too! With routine care at home and in our office, we can help preserve your smile so you avoid tooth loss and enjoy an attractive and healthy smile for years to come. If you have any questions about treating periodontal disease, then contact our team to learn more!
Schedule a Visit for To Maintain Good Gum Health
We're ready to offer treatment that helps you maintain a full and healthy smile. Contact Lake Orion Family Dentistry in Lake Orion, MI by calling 248-693-6213 to learn more about our periodontal treatment options.