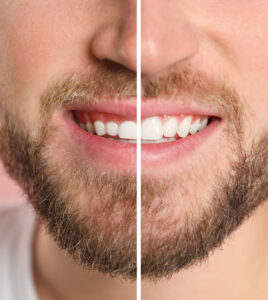 When you have a smile that displays too much gum tissue, also known as a gummy smile, this could alter the appearance of your teeth. To correct this cosmetic concern, we can offer treatment in one visit with advanced laser dentistry. In today's blog, your Lake Orion, MI, dentist discusses gum contouring.
The Impact of a Gummy Smile
A gummy smile means that you show too much gingival tissue when you smile. This alone could be a source of embarrassment, but gummy smiles often make teeth appear shorter than normal or uneven, if you have good dental alignment. We don't want you to feel embarrassed about your appearance, which is why we offer a cosmetic solution that only takes one visit to complete.
The Contouring Process
The process involves our team gently marking the gums to identify which portions need to be removed or reshaped. We then use a dental laser, one specially calibrated for soft tissues, to carefully remove the excess tissues, reshaping and improving the symmetry of the gum line in the process. The use of lasers means we can target the area with precision and avoid damage to healthy tissues. The technology doesn't require the use of anesthesia, and can prevent swelling, bleeding, and infection, as we don't need sutures or scalpels. The area heals quickly too, as most people return to normal activities after only a day of rest. You can obtain a beautiful smile in only one visit!
Treating Periodontal Disease
The same technology can also be used to address periodontal disease. If you have the advanced stage of the disease, treatment is crucial for managing it and preventing the onset of tooth loss. Our team will use the technology to gently remove the diseased portions of the gums, so healthy ones can reattach to the teeth and reduce the depth of periodontal pockets. Our team then manages the disease moving forward with dental cleanings every three to four months, so we can protect your smile and prevent major complications from arising.
If you have any questions about how we offer a cosmetic treatment to reshape the gum line, or if you're ready for contouring right now, then contact our team to get started. We would love to help you obtain a beautiful and stunning smile, one that you can't wait to show off to the world.
Do You Have Questions About Cosmetic Dentistry?
Our team can help improve the overall health and beauty of your smile, sometimes in only one visit. To learn more about our cosmetic treatment options, call Lake Orion Family Dentistry in Lake Orion, MI by calling 248-693-6213. Our team not only contours the gingival tissues, but we have professional teeth whitening, lifelike porcelain veneers, and other cosmetic treatments.