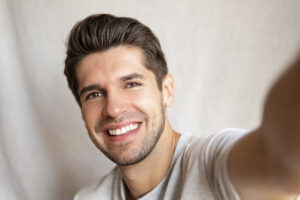 Do you wish your smile could make a great first impression, or help you feel more confident? We understand, and we believe everyone deserves a beautiful smile. With cosmetic dentistry, we can help your smile shine. In today's blog, your Lake Orion, MI, dentist talks about our cosmetic treatment options.
Starting With a Cosmetic Consultation
To start improvement with cosmetic dentistry, we want to conduct a detailed examination of your smile. With digital x-rays and intraoral camera technology, we can assess the cause and extent of your esthetic concerns, so we can plan treatment with precision and accuracy. We also look at any underlying factors that may need attention too. Every smile is unique, so our team will offer a personalized treatment plan, taking your own hopes for your smile into account. Everyone deserves a shining and beautiful smile, and we can make it happen with cosmetic dentistry.
Anesthesia and Sedation
Simple procedures, such as teeth whitening, may be very minor. But cosmetic restorations may require removing structure from the teeth. To keep you comfortable, we can offer a local numbing agent to the area being treated. If you have anxiety about seeing the dentist, then our team can offer sedation to help you enter a calm and relaxed state. When you undergo cosmetic dentistry, we want your experience to be a positive one.
Professional Teeth Whitening
Our team offers professional teeth whitening as part of our cosmetic dental treatments. This system offers stunning results that last far longer than the results provided by store bought teeth whitening strips or toothpastes. We will create a set of custom plastic trays, and then send them home with you. We also include plastic syringes filled with a powerful bleaching gel. You add the gel to the trays and wear them for a set amount of time each day, usually an hour. The total treatment time takes about two weeks. You then obtain a smile up to eight shades brighter, and any leftover gel can be used for touch-ups in the months to come. The trays ensure even results across your smile and prevent saliva from diluting the results! If you need results quickly before a big event, then we have an in-office option that uses bleaching gel and a light to remove stains in one visit, often brightening the teeth by several shades!
Metal-Free Fillings and Crowns
What if you have a cavity or a tooth that is damaged or misshapen? Then we could offer cosmetic improvement with custom dental restorations. With cosmetic dentistry, we can place fillings in one visit that blend with your smile seamlessly. Using composite resin, we can provide a strong and metal-free material that is safe for all ages. In addition to treating tooth decay, this can also mask teeth stains, repair minor damage, and reshape your teeth.
If you have more susceptible damage or a severe cavity, then we could cap your tooth with a custom dental crown, one that is crafted for your tooth in particular. We often create them from porcelain, which is very strong and durable, and can be shaded to blend with your smile seamlessly.
Bonding and Contouring
Dental bonding uses the same composite resin as our fillings to mask common cosmetic complaints, such as stained teeth, gaps between teeth, or minor damage or worn-down structures. We can also reshape malformed teeth too! But we also offer contouring, in which we sand and buff the tooth to correct the appearance of minor chips, reshape overly large or misshapen teeth, and smooth out grooves, pits, and rough patches in the outer structures. Our team can also dull sharp, jagged, or pointed tooth structures in one visit.
Porcelain Veneers
Porcelain veneers are thin shells of porcelain that we attach to the front facing sides of each tooth, instantly improving the overall shape and beauty of your smile. Veneers provide a smile makeover in two visits, reshaping teeth and masking stains, minor misalignment, damage, or unsightly gaps between teeth.
Gum Contouring
If you display too much gum when you smile, which makes teeth appear uneven or small, we could use gum contouring to gently trim and reshape the gum line with laser dentistry! You then obtain a more attractive smile on only one visit. If you have any questions about how we transform smiles with cosmetic dentistry, then contact our team today to learn more.
Schedule Your Cosmetic Visit
A smile that makes you feel great and can make an excellent first impression is possible with cosmetic dentistry. Contact Lake Orion Family Dentistry in Lake Orion, MI by calling 248-693-6213 to schedule your next appointment with our team.